S.E.E. Welcomes new staff members!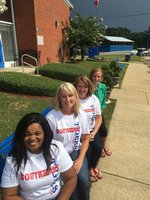 Teachers Contina Mcdonald, Cindy Felder, Vicky Thorne and Kelsey Wilson
We are proud to welcome our new staff members for the 2016-2017 school year. Mrs. Contina McDonald is teaching 3rd grade inclusion, Mrs. Cindy Felder is teaching our older special needs class, Mrs, Vicky Thorne is teaching 4th grade and Ms. Kelsey Wilson is our Speech Pathologist.