Former S.E.E. Student is now an author!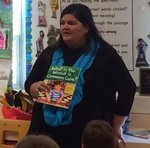 Michelle Wallace Smith
Michelle Wallace Smith is a former S.E.E. student. She is now a teacher and an author. She has written a book for children titled, What in the World is Common Core? She visited our school on Friday, November 14th and shared her book with several classes. We are so proud of Michelle and her success. She is wonderful representative of our school!