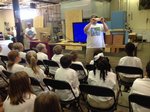 Wood Magic picture
The fourth grade classes went to Mississippi State University on October 9th to participate in Wood Magic Science. The Wood Magic Program was created by the Forest Products Research Center at MSU. The program was initiated in response to the common misconceptions that many students have about the use of forest resources. Students are taught that wood is renewable, recyclable, biodegradable, and durable, and that we are currently growing more trees today in the United States than ever before.
They went to many different exhibits throughout the day. Some of the exhibits were: Wood Sandwich - how plywood is made from trees. Sawmill - how trees are cut and made into boards. We learned that Meridian has the largest sawmill. Termites - termites have basic needs just like us and that they can destroy a house. They discovered that the ink in some pens mimic the scent that termites follow. Furniture/Torture Chamber - furniture is tested for durability. They can test for 5 years in one day (25, 000 times) Chem-Is-Tree - there are various byproducts from trees that we use in everyday life. Bubble Up: Students learned about the capillary lines in wood and saw how you can blow bubbles with a piece of wood. Rock Stars: Wood is very strong. Students had to guess how much weight it would take to break a thin piece of wood. It took over 100lbs of rocks to break it!
Our fourth graders learned a lot about wood! Wood Magic/MSU also fed all the students lunch and every student received a free t-shirt.
Click here to view pictures from the field trip and here to visit the MSU Wood Magic website for more information.